Sensuale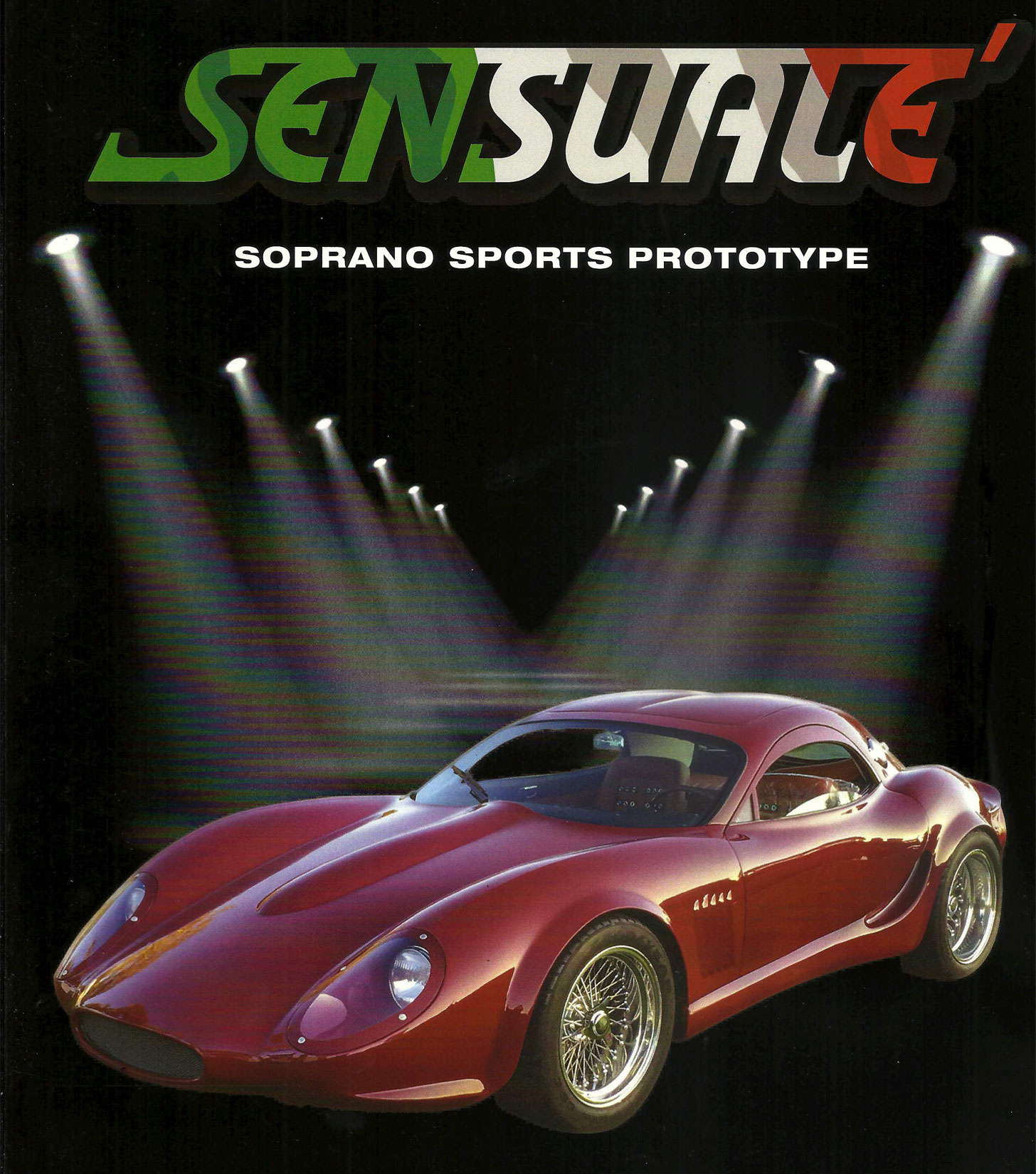 Sensuale' is a design and engineering concept prototype conceived by Nicola Soprano who brought to fruition, in aluminum and steel, a napkin sketch. Having had the good fortune to have raced and driven many legendary cars from the "Golden Age Of Motorsports" (among them Ferrari 250SWB SEFAC "Hot Rod" 250 Tour de France, Factory Competition Daytona, 500 Testa Rossa, 330 LMB, 375 Plus, Maserati 450S, Ford GT/40's, Cobra Daytona Coupe and so many others), the inspiration to design and build a tribute to the glory and magnificence of this "Golden Age" became paramount, hence "Sensuale— was born.
It is powered by a 1960's vintage alloy 4.4 liter Ferrari V-12 single overhead cam engine, mated to a 5-speed transaxle through a torque tube. The chassis is built of chrome-moly oval steel tubing, with a fully adjustable Heim jointed suspension on gas coil-over shock absorbers and a fuel cell. The body and interior are fabricated out of hand-formed aluminum with a removable roof panel. Power brakes, power windows, air conditioning, and rack & pinion steering are fitted.
The windshield flips up and the front of the dash panel is removable in order to service the distributors as the engine is located behind the front axle to facilitate in giving a near-perfect 50/50 weight distribution for outstanding road handling. The rear glass panel opens to access the trunk area and spare tire.
The interior consists of leather-covered racing-style seats and a traditional wrinkle-finished dash. Everything is unique to this prototype, including the 17 inch spun aluminum wire wheels, glass, tail, and headlight lenses as well as the spectacular "Rosso Sensuale— paint color which took months to develop.
Sensuale' is a complete sensual exemplification and enhancement of the glory and artisanship of age in motorsport history that will never be repeated. It was an era of simple visceral genius in concept, design, and construction of high-performance sports, racing, and G.T. cars. This was a time where the use of machinery was enjoyed without electronic computerized complexity.
Sensuale' is pure form; hand-built in the same spirit as a Ferrari, SEFAC Hot Rod, 250 GTO, or Cobra Daytona coupe, providing a means to enjoy the primal thrill of these legendary machines on a daily basis.